Hero of the month – Howell Harris 1/2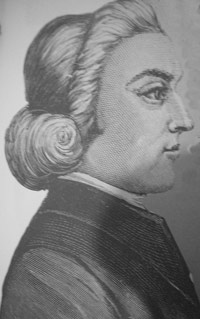 Howell Harris was born at Trefeca, in Brecon in 1714. Wales during his early life was spiritually in as parlous a state as England. He wrote in his journal in 1735, 'One day in prayer I felt a strong impression on my mind to give myself to God as I was, and to leave all to follow Him. But presently felt a strong opposition to it, backed with reasons, that if I would give myself to the Lord, I should lose my liberty, and then would not be my own, or in my own power; but after a great conflict for some time, I was made willing to bid adieu to all things temporal, and chose the Lord for my portion. I believe I was then effectually called to be a follower of the Lamb.'
Then a few months later, ''Being in secret prayer, I felt suddenly my heart melting within me like wax before the fire with love to God my Saviour; and also felt not only love, peace etc., but longing to be dissolved, and to be with Christ. Then was a cry in my inmost soul, which I was totally unacquainted with before, Abba, Father! Abba, Father! I could not help calling God my Father; I knew that I was His child; and that He loved me and heard me. My soul being filled and satiated, crying, 'Tis enough, I am satisfied. Give me strength and I will follow Thee through fire and water.'"
He was so fired up by Holy Spirit that he had to go out and tell people about his Saviour. "The Word was attended with such power, that many on the spot cried out to God for pardon of their sins'' The importance of this was that it was the beginning of the 'Great Awakening' in the UK. Harris was leading many to the Lord and forming them into Societies before Whitefield or John Wesley.
Share post: